Best viewpoints of Lake Bled
Walking around Lake Bled, taking a boat ride to the island, or swimming in the lake is nice, but let's not forget about checking out some of Lake Bled's best viewpoints!
Hiking to the viewpoints around Bled is the best way to get those magnificent views of this Slovenian icon.
1. Ojštrica viewpoint
There are three main viewpoints around Lake Bled, but the most famous one is Ojštrica.
The name Ojštrica might not sound familiar to you, but it's likely you've seen the photos of "The Bench" – probably the most famous bench in Slovenia.
To come to the Ojštrica viewpoint, you have to go to the Zaka Valley side of the lake where Camping Bled is located. You can park at the Zaka Parking Lot.
Behind the restaurant, walk near the woods, and search for the sign "Ojštrica – Osojnica." And when you find the right path, simply follow the signs through the woods.
After a short walk up, you'll have to turn right where you climb a small steep hill, and you're there. It takes approximately 15 minutes of an easy hike.
We suggest coming in the early morning because the sunrises are amazing there.
Keep in mind that Ojštrica is the quickest and most accessible viewpoint to get to, so many people will be there. That means you'll have to wait in the queue to get to the bench (if people will be kind enough to move from it).
But please, don't stop there. Continue your hike and visit two more viewpoints, the Velika Osojnica and Mala Osojnica viewpoints.
We highly recommend continuing as most of the tourists only come for "The Bench". So if you continue your hike, you'll get more amazing views and, most importantly, avoid crowds. You can easily find a place for yourself.
2. Velika Osojnica Viewpoint
Velika Osojnica is another great viewpoint of Lake Bled, not far from Ojštrica viewpoint.
After coming down from Ojštrica viewpoint, continue the hike up the hill. Follow the signs, and after a short hike, you'll get to the point where the path splits into two: the right one leads to the Velika Osojnica viewpoint, and the left one to the Mala Osojnica viewpoint.
The best is to go to Velika Osojnica first because after Mala Osojnica you can descend down toward the lake. The route is circular (in a way).
3. Mala Osojnica Viewpoint
Mala Osojnica Viewpoint of Lake Bled is one of the favorite viewpoints for photographers as it offers the best views of Lake Bled and the surrounding area.
The walk from Velika to Mala Osojnica takes 20 minutes.
And along the way, you'll pass a small viewpoint with a bench, which is the only spot where you get a view of the valley from the other side. Make sure not to miss it!
Mala Osojnica was our last viewpoint of the three, and it's the most convenient spot to head back down towards Lake Bled.
There is a steep staircase right next to it that leads you back down to the road.
If you start with Ojštrica, then visit Velika Osojnica, and lastly, Mala Osojnica, you won't be coming down the same way, but the path ends maybe 500 meters away from the Ojštrica trailhead.
TRAVEL TIP
If you're going for sunrise, we suggest starting your hike the other way, so start with Mala Osojnica, which offers the best sunrise photos of Lake Bled.
4. Panoramic viewpoint on the side of the lake
There's a great panoramic viewpoint on the shore of Lake Bled, between Velika Zaka and the Mala Osojnica trailhead.
5. Bled Castle viewpoints
The viewpoints of Lake Bled that don't require much hiking are the Bled Castle Viewpoints.
Although the viewpoints around Bled Castle don't give you the most spectacular view of the lake, as the island with the church is quite a bit further away than from other viewpoints. Nonetheless, you can get some really nice views from up there.
You can choose to visit the Bled Castle and observe the lake from there or hike to the free viewpoints next to the Bled Castle.
The entrance to Bled Castle costs 11 euros but also gives you entry to the museum.
You can get to these free viewpoints from the lake's shore or from one of the parking lots nearby Bled Castle.
6. Straža hill above Lake Bled (Tobogganing hill)
Just above Lake Bled, you can find the viewpoint at Straža hill.
The view from Straža hill is not as spectacular as from the other viewpoints, but it's a cool spot to visit in the summer, as you can go up by cable car and then ride down on a toboggan. And there's also an adrenaline park for kids there.
You can also walk up to Straža hill if you don't want to pay for the cable car.
7. Hotels with spectacular lake views
There are also plenty of amazing hotels that offer stunning views of Lake Bled. So if you're planning on staying overnight at Lake Bled, it's worth checking some of them out!
Hotels with the best views of Lake Bled:
Click here to find other great hotels on Lake Bled.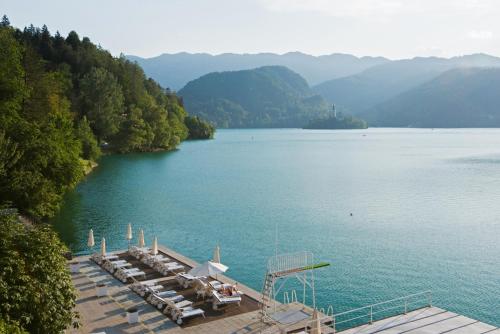 5-star luxury hotel
Amazing views from rooms and restaurant
Pool & spa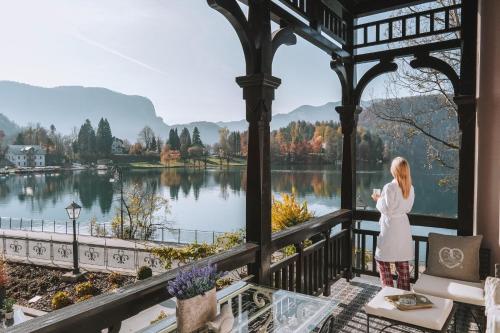 4-star luxury hotel
Great views from rooms, terraces, and outside areas
Idyllic location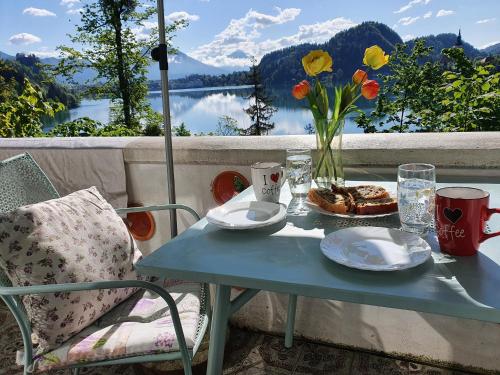 Entire holiday home right above the lake
Perfect for families
Great views from the house
Where is Lake Bled and how to get there?
Bled is located in northwestern Slovenia, 35km from Ljubljana International Airport and 55 km from Ljubljana, the capital.
Bled is also close to the Austrian border of Wurzenpaß and the Italian border of Fusine Laghi – Rateče, each about 45 km away.
The best way to reach Bled is by car, and there are also frequent bus connections, as well as a direct train from Ljubljana.
And there are also many daily tours to Lake Bled from either Ljubljana or Zagreb.
Getting to Lake Bled from Ljubljana Airport
You can get a convenient pickup from Ljubljana Airport and get dropped off in Bled by GoOpti, a reliable transportation service in Slovenia.
Click here to find your transfer from Ljubljana Airport to Lake Bled.
Getting to Lake Bled by car
You can easily rent a car in either Zagreb or Ljubljana and drive over to Bled in no time, as it's conveniently close.
It takes only about 1 hour by car from Ljubljana and 2.5 hours from Zagreb.
Click here to find great car rental deals in Ljubljana.
Click here to find great car rental deals in Zagreb.
Getting to Lake Bled by bus
There are frequent buses from Ljubljana to Lake Bled, costing about 6 euros one way.
Click here to check the bus timetable from Ljubljana to Bled.
You can also reach Lake Bled by bus from nearby countries on long-distance bus services to Bled by FlixBus.
Top bus routes to Bled:
Click here to check all long-distance bus connections to Bled.
Getting to Lake Bled by train
You can get to Lake Bled by taking the train from Ljubljana in about 1 and a half to 2 hours for about 7 euros one way.
Click here to check the train timetable from Ljubljana to Bled.
Best time to visit Lake Bled
There is no wrong time for visiting Bled and hiking the viewpoints.
We've visited Bled during every season, and each of them offers a unique atmosphere.
The wintertime (when there is snow) can be a bit tricky for hiking, but if you come prepared, there's nothing to worry about.
Winters in Bled can be really beautiful if there's snow! However, one time in winter, we couldn't even see the lake – that's how foggy it was. But it really depends on the day.
Just make sure to check the weather prognosis so you don't come when it's raining heavily, as the paths around can get quite muddy and slippery.
READ MORE
Read our other Slovenia Travel Guides:
More things to do around Bled: